Room Dividers
Get a Quote Make an enquiry and we will send you a quote within 24h (Mon-Fri).
Best Room Dividers
Room Dividers to suit a cosy room decor, a modern minimalist style or a classic design.
Highest Quality
We only use the highest quality materials and spray paint for the dividers in your home.
Fast Delivery
Nationwide delivery service with the option to collect from our Dublin shop (Mon-Fri 9am - 5pm).
Room dividers are a fantastic way to help repurpose the existing space within your home.
Our range of dividers are an easy and affordable way to remodel the space within your home and create new areas.
There are times we all wish we had extra space in our home. However, instead of wishing for an extra room, you can always think about how to make better use of the space you already have. Room dividers are a fantastic way to do this.
In recent years, many employers and employees have begun to see benefits associated with working from home, with more people likely to undertake some form of remote working.
By installing a room divider, you can create a perfect home office space in a simple way which also provides some privacy for those all-important online meetings.
Room dividers have a great variety of uses and are a great solution for when you need to be flexible with space.
Our room dividers are available in a range of patterns and designs and can be spray painted in any colour and brand of your choice. They combine functionality and style making them a great interior design option.
Our range of room dividers are great statement pieces in their own right.
In the modern world of sharing Instagram-worthy interior designs, there are so many simple ways to turn everyday items in your home into stylish features.
One fantastic way you can turn a simple everyday piece into a decorative piece is by covering your radiator with a well designed rad cover.
Radiator covers are available in a range of designs and finishes and can also double up as additional storage or shelving. By covering your radiator you can ensure the room feels sleek and fresh.
Check out these budget radiator covers for some style inspiration - You can order them online and have them delivered anywhere in Ireland.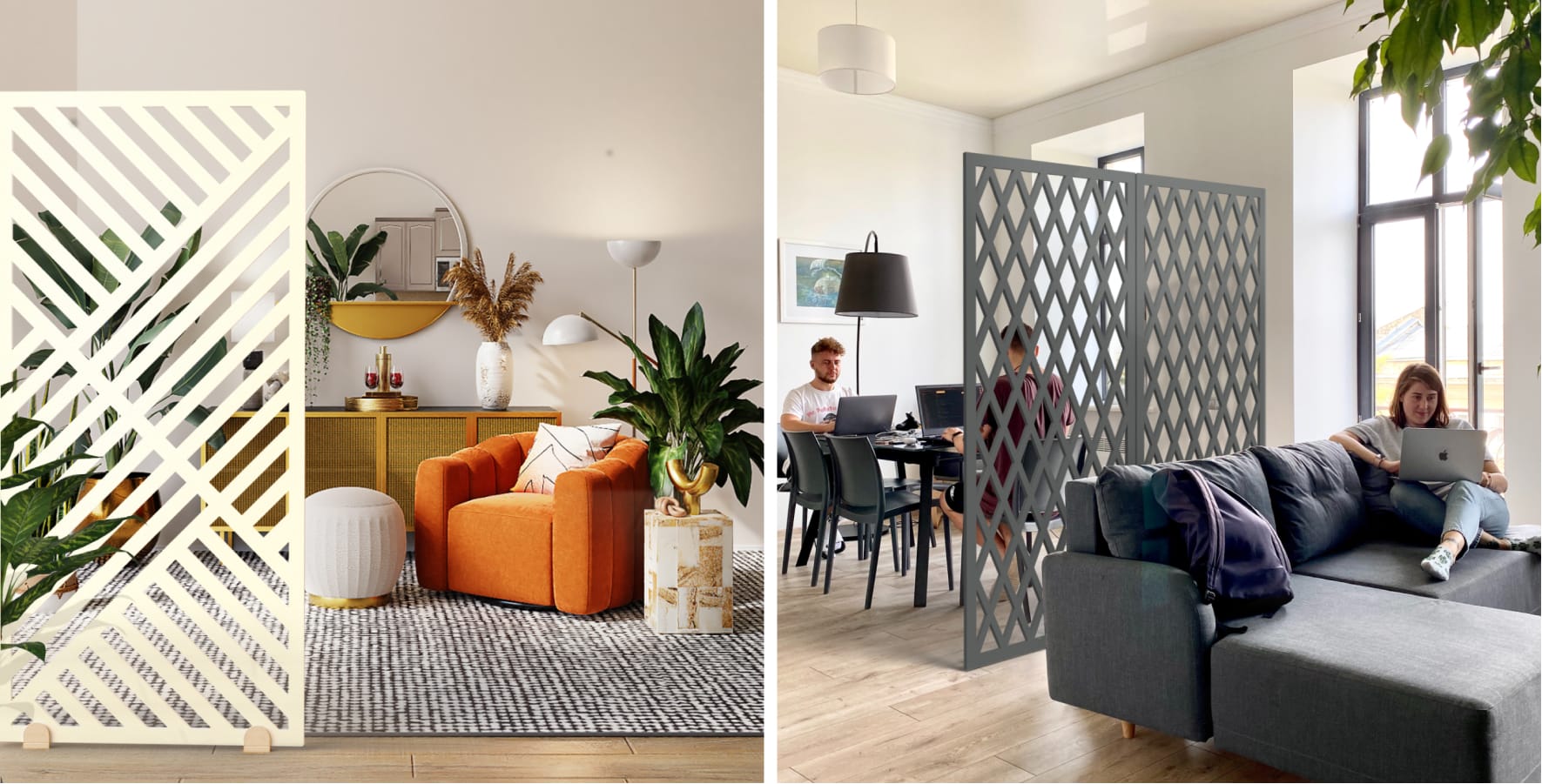 Room Dividers Ireland
The continued rise in popularity of open plan living and design is commonplace in many new build and existing homes across Ireland.
Open plan living has so many great advantages, however there are probably times when you may wish you could divide a large space into smaller zones.
As a top designer and manufacturer of Room Dividers in Ireland, we have a range of top-quality room separators to help you arrange your home to suit you.
They are the perfect solution to reorganise your home and create separate zones for a variety of purposes. In kids' rooms, they can be added to separate the bed and play area from the study area.
For a stylish design that will transform your kids' bedroom, you can combine one such panel with an upholstered bed. These beds are available in a variety of colours and fabrics and you can either match or create a fun constrast between the colour of your bed and the colour of the divider.
Similarly, if you have a large bedroom and want to create a dressing room area choosing a sturdy divider is a great way to achieve this.
If you have two children sharing a bedroom, as they get older it is likely they will begin to want their own space. By simply adding hinges you can make a foldaway room divider is a solution to this problem which provides each sibling their own space at the times they need it most.
Ready to choose your new design piece?
If you have any questions or special requests our team is available and ready to help you.
Similarly, folding room dividers are great for when you want to host guests in your living space.
By using this type of divider, you can allow your guests privacy if they are staying over.
In many city centre apartments, this is a great solution as often the living space is open plan and includes the kitchen - the screen can be easily set up and packed away when needed.
When choosing where to place room dividers in your home it is important you think about ensuring each zone area remains well-lit.
Where a room is away from natural light, consider using screens which are patterned with holes or light in colour to allow some natural light in. It will also be important to consider your use of lighting such as lamps, spotlight or fairy lights.
While room dividers have been available on the market in different forms for some time, our custom-made decorative panels are a fantastic product. We have listed some answers to frequently asked questions below.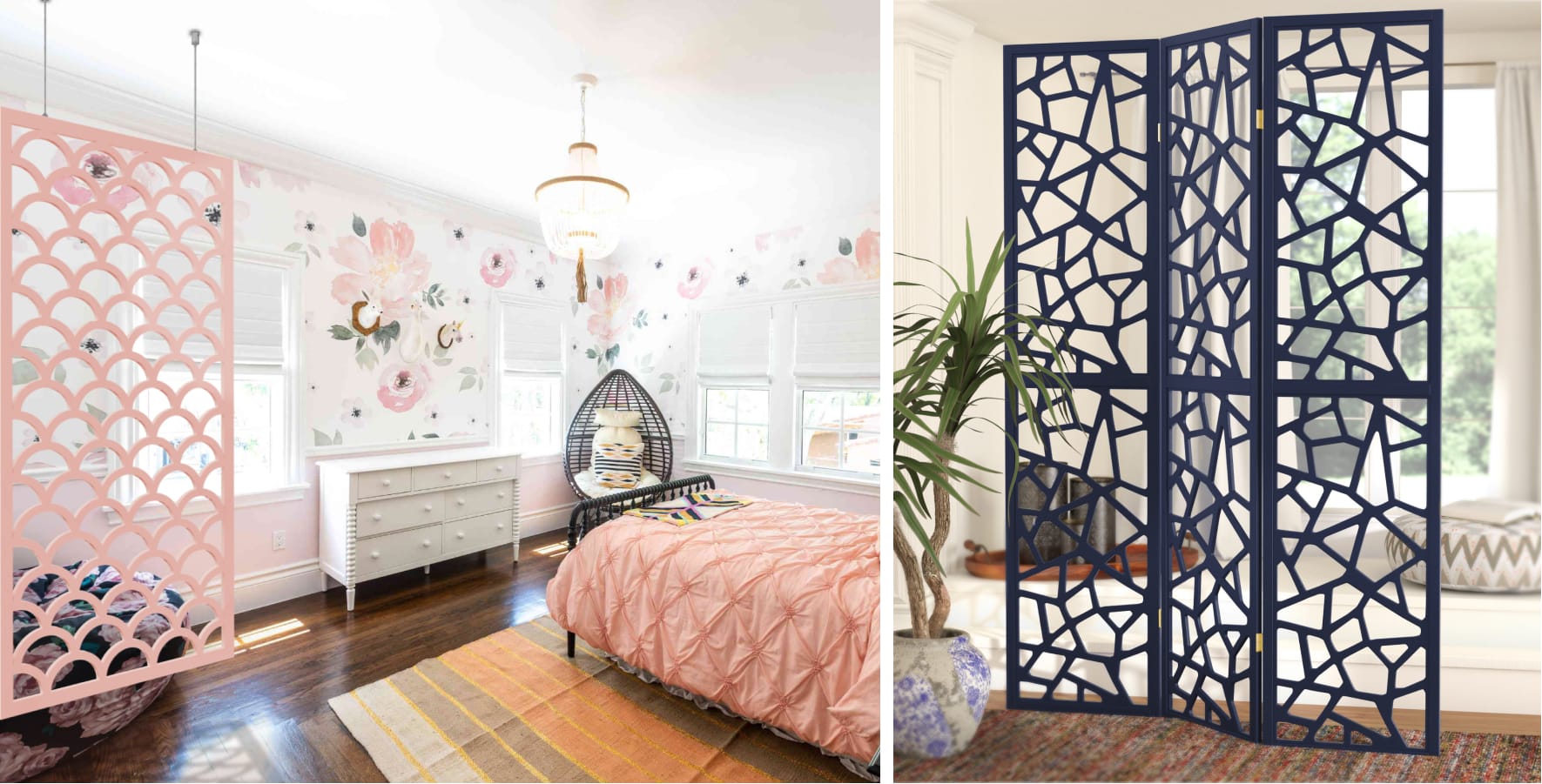 Are Room Dividers Sturdy?
Our room dividers are made from moisture resistant MDF and CDF and are therefore solid sturdy structures which can be used to zone rooms or create flexible spaces in a quick and hassle-free way.
How tall are room dividers?
Our room dividers are available in a range of standard sizes, usually around 2100mm high. Our dividers can also be custom-made to your exact measurements and fit in any space. This is perfect if you are working with an unusual alcove or loft room space.
How wide are room dividers?
Similar to the above question, our room dividers are available in a range of standard sizes starting from 500mm wide and can also be made-to-measure upon request.
Can you hang room dividers?
Our room dividers can be installed in a variety of ways including being hung from the ceiling. If you are unsure of the best way to do this, contact one of our team who will always be happy to offer advice.
How do I secure room dividers?
Our room dividers can be secured in a variety of ways. They can either hang from the ceiling, be secured to the floor or come with a frame so that they are freestanding, or fixed to any nearby structure using our bracket system (optional extra).
Will room dividers stand on carpet?
Our room dividers should be able to stand on carpet if you make a frame with legs for them. The best way to secure your room dividers will depend on their height and width. When placing your order, our team can advise you on the safest way to achieve this.
Partition Walls for Your Home
Our room dividers are a cost effective alternative to traditional partition walls for your household.
The great thing about our room dividers is that they offer more flexibility than a partition wall.
Our dividers can also be finished in a spray painted coating of your choice of colour and brand so you can be more creative with the style.
Opting for dividers as opposed to a partition wall also means they can be used in rented properties as a temporary measure.
Similarly the benefits of our product as opposed to a partition wall is that they can be taken down when you come to sell your property as often larger rooms and open plan living increase the valuation of properties.
Inspiration for Decorative Dividers
Using our CNC router technology, we are able to produce room dividers in a range of styles and patterns.
Decorative screens are a fantastic addition to any home and perfectly combine style and functionality.
Our team can also create fully custom-made designs that look so good, they will make your home look like an art gallery. Click here for inspiration for decorative dividers.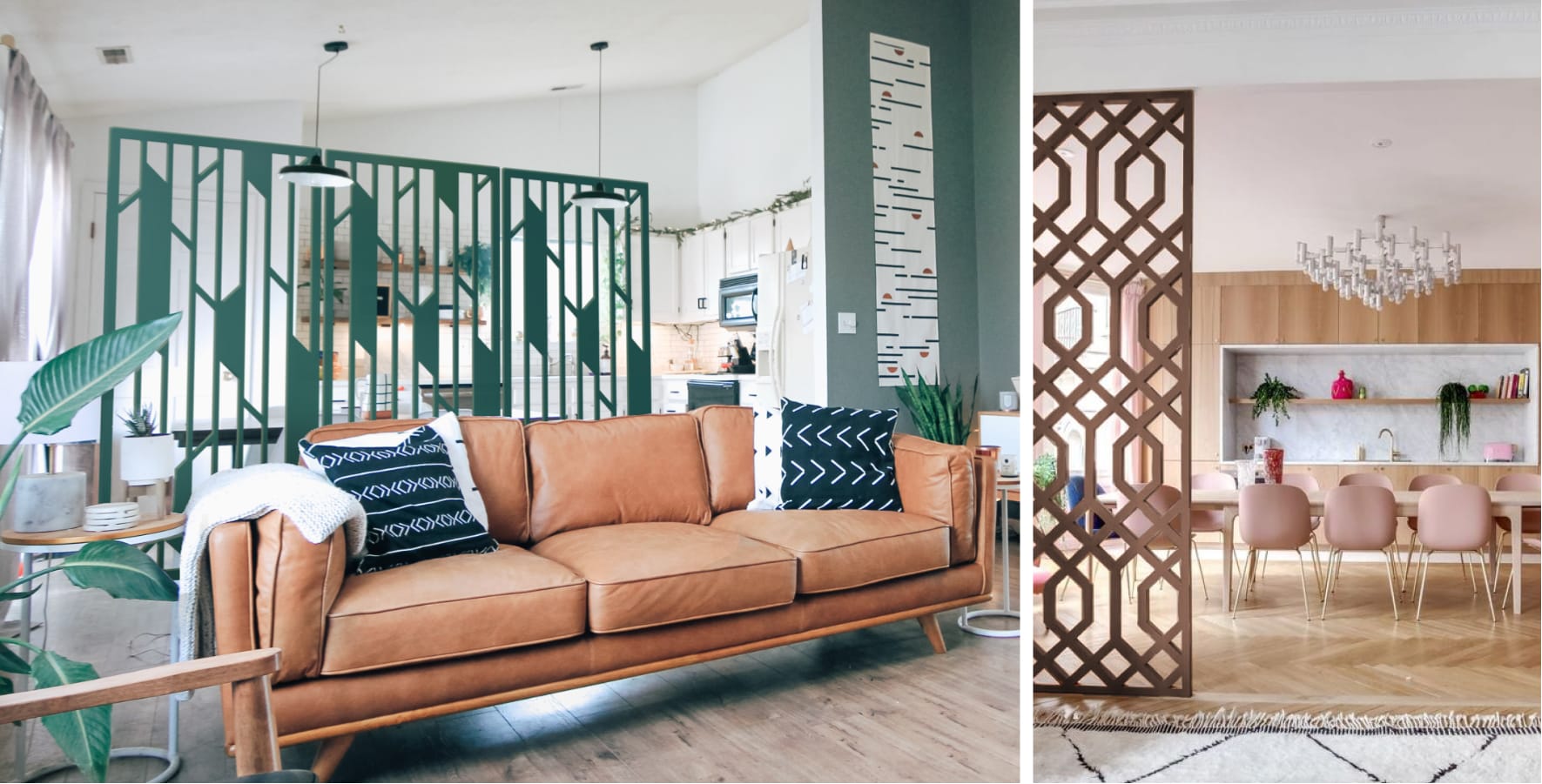 Room Divider Screens
Room divider screens are absolutely transformative and a quick solution to gain some well-deserved privacy.
Alongside this basic use of privacy, our range of dividers can also introduce a range of patterns and colours into your home. They are a fantastic interior design piece.
Room Dividers for Small Spaces
If you have a smaller living space, you may still wish to zone it to create separate areas.
For example if your front door opens up straight into your living space, using a room divider is a great way to create an additional entrance and provide some much needed privacy.
We recommend opting for a floor to ceiling textured room divider in order to create a break between the entrance to your home and the main living space.
You could choose to put some bench seating or a table to create your own porch and make the room divider seem like a more permanent structure.
Folding Room Dividers
Folding screens and room dividers can also double up as art pieces.
Take inspiration from traditional antique style dividers often featuring intricate designs.
The addition of the textures into the room can add a unique twist and help provide much needed colour and personality to a room with light walls.
Our dividers are available in a range of patterns and are a great way to create a sculpture style piece for any room in your room. By simply adding hinges, you have simple folding room dividers.
These folding dividers are great to use in the corner of a large room to add a certain creative flair to your space.