Decorative Panels
Get a Quote Make an enquiry and we will send you a quote within 24h (Mon-Fri).
Best Decorative Panels
Decorative Panels to suit a stylish home decor, a classic design or a modern minimalist style.
Highest Quality
We only use the highest quality materials and spray paint for indoors and outdoors.
Fast Delivery
Nationwide delivery service with the option to collect from our Dublin shop (Mon-Fri 9am - 5pm).
The use of decorative panels in interior design is a growing trend.
Panelling in a room is often associated with country homes or traditional design, however our panels provide a modern twist to a timeless classic.
Including our decorative panels is a fashionable way to make an interior design statement.
Decorative panels feature a greater range of design styles than more traditional panelling options. We design and manufacture high-quality panels for use in homes and gardens.
Available in a fantastic selection of designs, our decorative screens are the perfect addition to any part of your property - inside or out.
From choosing a colourful design to add a splash of colour in your kitchen, to adding a screen to provide privacy between your hallway and open plan living space, decorative panels have a whole host of uses.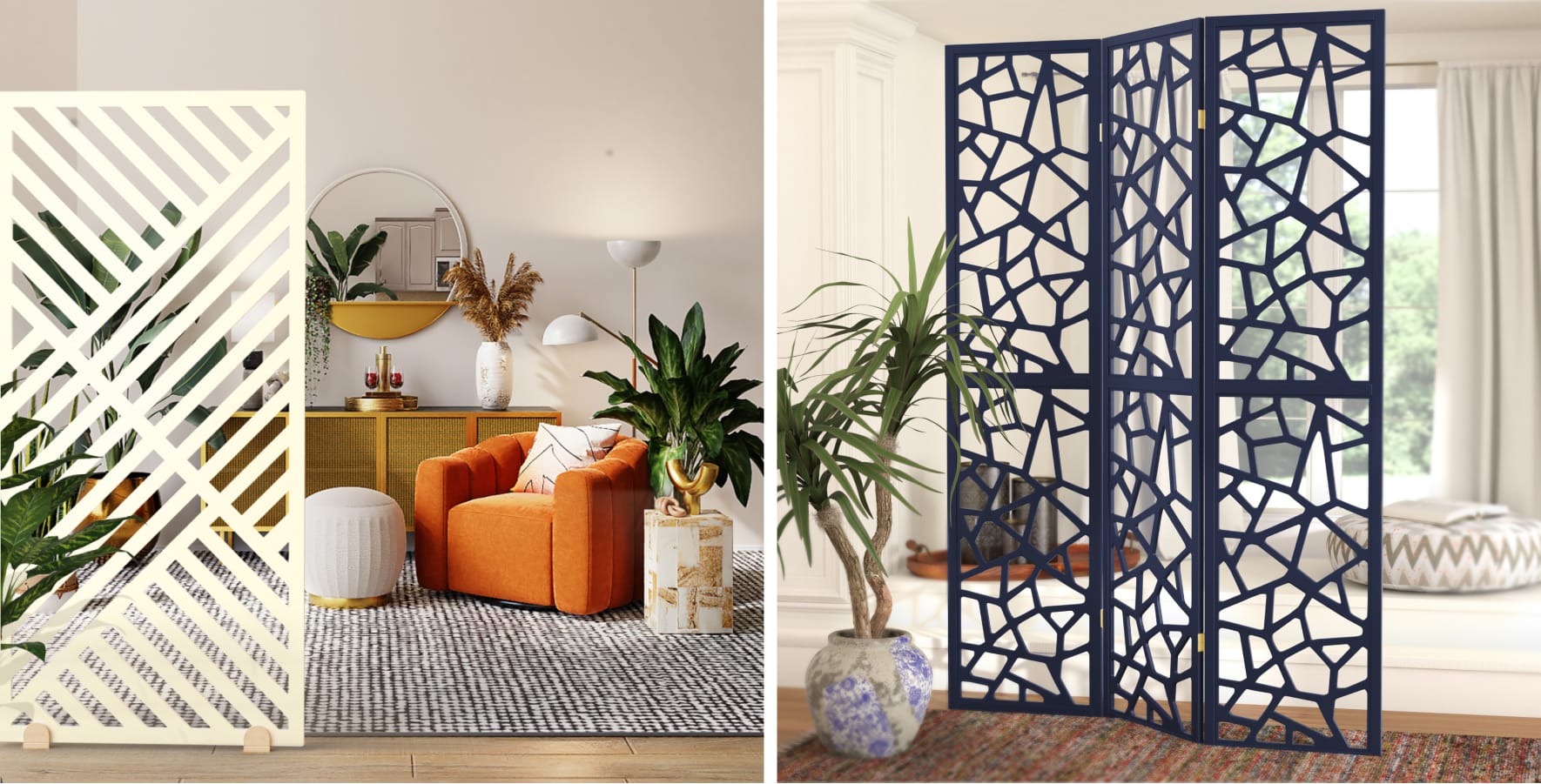 While decorative panels have a whole range of uses, perhaps the best reason to include them within your home is their ability to brighten up and liven up any room.
Our decorative panels are also great for corporate spaces or retail units and can help to uplift your space at an affordable price.
As we can offer our panels in a range of colours, you can ensure the panels look great and still represent your brand identity. For more ideas on how to incorporate decorative panels into your set-up, get in touch with one of our team today.
Decorative Panels Ireland
If you look carefully, you will be surprised at how many properties incorporate decorative panels.
As a top supplier of decorative panels Ireland we are experienced in designing and providing products for large and small home decoration projects.
Decorative panels are great for any location within your home. They can be used in any space inside almost any room.
A popular way to use our panels is as screens to separate larger open plan spaces and create additional privacy or zone your home.
Decorative panels are a great way to make a statement in a kitchen as an alternative to tiles. Our panels made from moisture-resistant MDF or CDF would be able to withstand a busy kitchen while adding an element of elegance. Perfect for those who want to put their own stamp on a kitchen.
Ready to choose your new design piece?
If you have any questions or special requests our team is available and ready to help you.
Similarly our decorative screens are fantastic for redesigning a bedroom. It is important when choosing the finish of your screen to think about how it will complement the existing colour and style of any room.
Refitting a bedroom doesn't have to be expensive and with a few simple tricks you can achieve a premium feel on a budget.
A simple way to do this is by upcycling and refurbishing existing furniture as opposed to buying brand new - an example of this is by ordering wardrobe doors.
Think about matching the design of the decorative screens to your wardrobe doors for a well-designed and Instagram-worthy finish to your bedroom!
---
Decorative Screen Types
Our quality decorative screens are incredibly versatile and can be used for a range of purposes and in a range of locations throughout your property.
When thinking about the design and style of the screen you order it is important to consider how you wish to use the screen.
Once you have decided on the purpose of your panel, our team will be able to offer advice on the most suitable material.
Our products are designed and manufactured by our expert team in Dublin. Using our CNC router, we are able to create simple complex designs in a variety of standard sizes or made-to-measure to your exact specifications.
Our decorative screens can be used in a variety of ways. While traditionally wood panelling is attached directly to the walls, our screens have a range of options for installation.
Again the choice of screen will depend on the function. For example if you are looking for a decorative screen to act as a room divider, it is likely you may want it to be freestanding.
Read on to find out how to incorporate decorative panels into your home.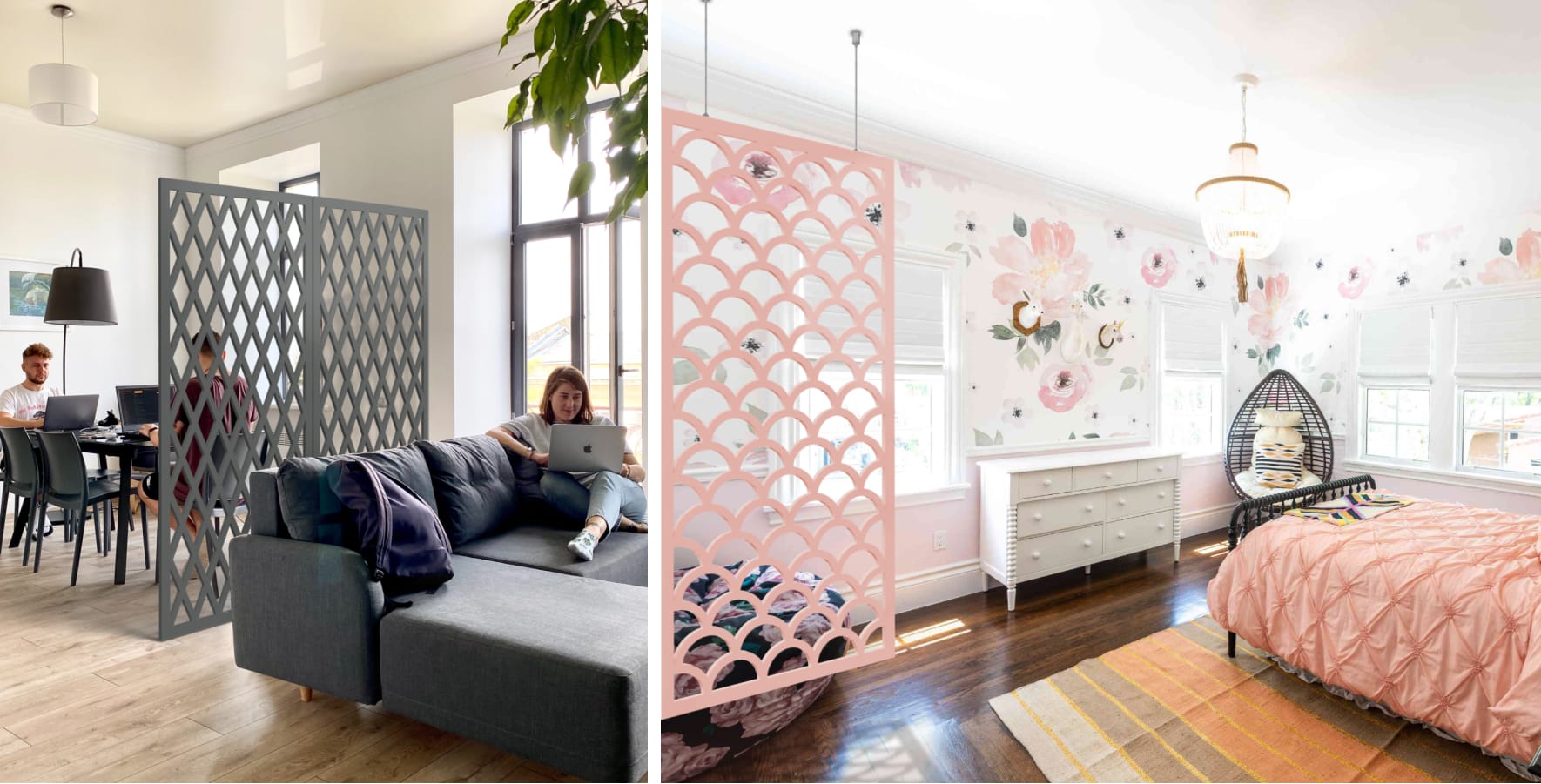 Decorative Panels for Living Room
There are so many ways to incorporate our stylish decorative panels into your living room.
Our decorative panels are a fantastic alternative to traditional wall panelling and can be attached to your wall to provide a feature wall in your living space.
Alternatively you could cover the whole room in panels, choosing one of our elegant designs.
The choice of colour here is important; you could either match the decorative panels to the walls for an immersive feel or choose to add bright and bold colours - the choice is yours!
Decorative Panels for Indoors
Decorative panels look amazing in any home, but they are also great for commercial properties.
As a business owner, restaurant or hotel manager, you may be considering how to revitalise the design of your property or retail unit.
Decorative panels are an excellent way to add some creative flair and add a statement piece into your premises. We can also design screens to separate showcase areas for your products.
As well as being aesthetically pleasing, our screens also offer great functional uses. We have previously supplied decorative panels in Ireland to many restaurants who are looking to add different sections and provide additional privacy to diners.
Similarly we have produced a range of screens for hotel lobbies, restaurants and bars.
Our range of slat wall panels is perfect if you are looking to fit out a retail unit or add a space for products in your office.
Made from high-quality MDF, our designs can be finished in a colour to match your branding. We have also seen restaurants or coffee shops include these as part of their designs to display products to sell and take-away.
Furthermore, our stylish products are perfect for use in beauty salons. They provide a simple and easy way to divide a larger space into different sections and help to create a premium and relaxed feel while also offering privacy for individual clients. This is a great way to separate the reception area from specific salon areas.
Decorative Panels for Outdoors
Our panels are a great way to create a garden oasis.
Perfect for large and small gardens, decorative screens can help to structure and create different areas in your garden.
A widespread way to use panels in the garden is to provide a shelter-like structure which can be used for outside-dining and entertaining all year round.
Our decorative panels can also be used at the front of the house as an alternative to traditional hedges or walls.
This allows for increased privacy while still providing a sleek design at the front of your home which requires low maintenance.
If you are considering using decorative panels outside, get in touch with our team who will be happy to advise on the best design and materials for this.
---
Ornamental Screens
A further use of our decorative panels is as art features within your home.
Our ornamental screen designs can be used as a perfect alternative to wallpaper or as smaller art pieces within your rooms. As our screens are available in a range of sizes you can really get creative with how you include them in your designs.
Ornamental screens are also fantastic for creating archways or hanging from the ceiling in offices or commercial properties to provide a focal point in larger spaces.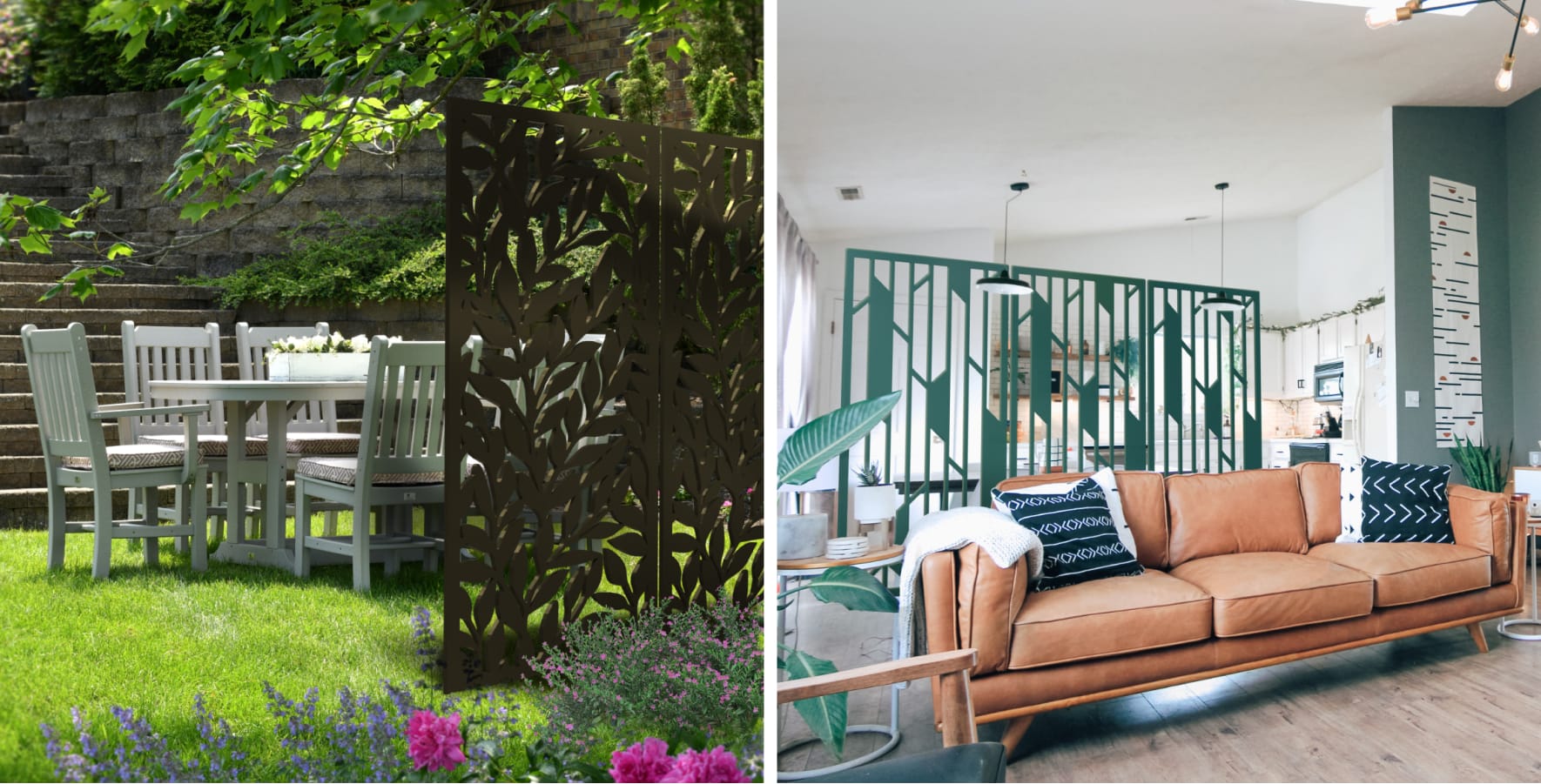 Choosing a Screen Design
When choosing a screen design, there are a range of important factors to consider:
How much do decorative screens cost?
Starting from €129, the price points of our decorative screens vary based on the material, size and design. Outdoor panels are also more expensive as we use a specialist weatherproof MDF.
How to use Decorative Screens?
As we mentioned earlier, our decorative screens have a whole host of functions and are incredibly versatile. When choosing your screen design it is important you consider what the use will be in order to choose the best product for your needs. Our decorative screens are often used as room dividers which are a great way to provide extra privacy in your home.
How to install decorative wall panels?
Our decorative screens can be installed in one of 3 simple ways: hang them from the ceiling, fix them to the floor, or build a frame to make them freestanding.
E-mail your enquiry today!
We'll be happy to talk you through everything we can offer.
Decorative Wall Panels
If you are looking for something to make a room in your home stand out, our decorative wall panels are a fantastic option.
Choosing from one of 15 designs, our panels are a great alternative to wallpaper or redecorating.
As they are simple to install these designs are also great for rented properties so that you don't need the landlord's permission to repaint but can still add your own stamp on your home.
Ornamental Wood Panels for Walls
Our ornamental wood panels are a further fantastic way to add a design twist into your home.
These products are great to add a unique twist to your home. We have often seen them used as focal art pieces within rooms.
These panels can be made with intricate designs and are also a great way to make intricate railing or handrail designs for stairs.